• Aaron Temple • Andre Mosley • Aric Jones • Singles

UglyFace drops off an instant fan favorite; "Sunset" is like a fall day in a different city from yours. Although everybody knows where California is, most have never visited. The goal of "Sunset" is to bring the Cali-Vibes to you. The Palm Trees, The Beaches, The Culture. Being in Los Angeles, writing a song, sitting at the pier, and hearing an old couple bicker about who ordered which drink is super relatable. Sometimes everyday things and struggles are beautiful stories. No matter how simple or complicated. So until the Sunsets on us all, remember to live each day with no regrets.
---
• Singles

UglyFace Music is back with another dope offering from the Bay Area's next to blow collective, UglyFace. This time around, the Uglies drop off "Mr. Big Shot."
---
Went "Old School" with this one, channeling our inner Frank-The-Tank and even hosting our own Mitch-a-Palooza; while keeping in tune with our video game theme, "Play For Keeps" concentrates on the importance of picking the right partner. This song is the epitome of being all in. I play for keeps. Take my momentary winnings or women in any condition and keep it all. I'm crazy like that.
---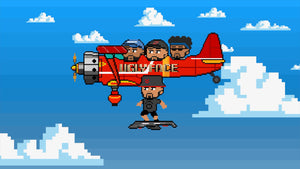 UglyFace Music presents, UglyFace "Pressure." This song is about the Pressure of trying to date someone who thinks they're out of your league. A person who doesn't respect whatever is essential to you.
---
• '96
The Yay Area collective, UglyFace, is back with another monster project to keep real hip-hop fans in a trance with their fantastic production, song arrangement, and clever wordplay; this super-group is over-delivering again.