• Aaron Temple • Andre Mosley • Aric Jones • Find Your TRiBE • Singles • Videos
Discover the heartwarming and soul-stirring world of UglyFace's latest R&B/Hip-Hop masterpiece, "Butterscotch." This enchanting track pays homage to cherished memories and the love of a grandmother, beautifully captured through evocative lyrics and a mesmerizing beat set at 159 BPM. UglyFace's seamless blend of soulful melodies and heartfelt verses transports listeners to a place where grandma's hands cooked with love, and the aroma of soul food filled the air.
---
• Aaron Temple • Andre Mosley • Aric Jones • Singles

UglyFace drops off an instant fan favorite; "Sunset" is like a fall day in a different city from yours. Although everybody knows where California is, most have never visited. The goal of "Sunset" is to bring the Cali-Vibes to you. The Palm Trees, The Beaches, The Culture. Being in Los Angeles, writing a song, sitting at the pier, and hearing an old couple bicker about who ordered which drink is super relatable. Sometimes everyday things and struggles are beautiful stories. No matter how simple or complicated. So until the Sunsets on us all, remember to live each day with no regrets.
---
• Aaron Temple • Andre Mosley • Aric Jones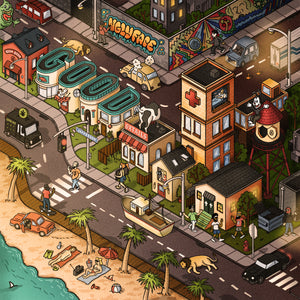 As human beings we carry our emotions, wether good bad or ugly, the feeling is inescapable. The good is often fleeting, the bad is always present and the ugly is only seen when overwhelmed with the bad. As UglyFace we share and bond over these moments, sessions become group therapy. A place to escape to cycle through emotions aloud with no judgment. With the Good EP we welcome you to our therapy sessions. STREAM UglyFace - The Good EP
---
• Aaron Temple • Andre Mosley • Aric Jones
UglyFace - Oxtails
---
Free to stream/download on soundcloud.