• Aaron Temple • Andre Mosley • Aric Jones • Find Your TRiBE • Singles • Videos
Discover the heartwarming and soul-stirring world of UglyFace's latest R&B/Hip-Hop masterpiece, "Butterscotch." This enchanting track pays homage to cherished memories and the love of a grandmother, beautifully captured through evocative lyrics and a mesmerizing beat set at 159 BPM. UglyFace's seamless blend of soulful melodies and heartfelt verses transports listeners to a place where grandma's hands cooked with love, and the aroma of soul food filled the air.
---
Join the movement and celebrate music fandom with the exclusive UglyFace x BandShirtDay collaboration! Introducing the Limited Edition TRiBE Tie-Dye T-Shirt, a streetwear essential that fuses the distinctive UglyFace logo with the vibrant spirit of tie-dye. As a proud participant in Band Shirt Day, UglyFace invites you to showcase your passion for music and individuality through this eye-catching masterpiece.
---
• Singles
Embark on a powerful journey through heritage and self-discovery with UglyFace's latest release, "Apple Tree." This heartfelt rap/hip-hop track delves into the echoes of the artist's familial past, confronting deep-rooted struggles and societal pressures. UglyFace's raw and evocative lyrics take listeners on an introspective voyage, reflecting on the impact of their parents and siblings on their own life. "Apple Tree" explores the consequences of violence and the yearning to break free from destructive cycles.
---
• Singles
Don't miss this soulful journey, "Butterscotch," a heartfelt tribute to the sweetness of life and the enduring love of a grandmother. Let the captivating beats and emotional storytelling touch your heart and soul. Experience the magic of UglyFace's "Butterscotch" and allow it to become a timeless part of your story.
---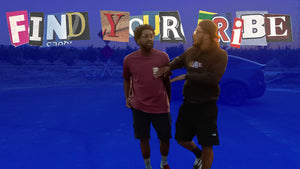 Don't miss this explosive and unapologetic journey, "DOH," as UglyFace showcases their musical brilliance in FIND YOUR TRiBE Episode 3. Tap in and follow UglyFace on all platforms to stay connected and witness their continuous rise in the music world. Experience the raw energy and creativity of UglyFace's "DOH" and be part of the unstoppable movement.